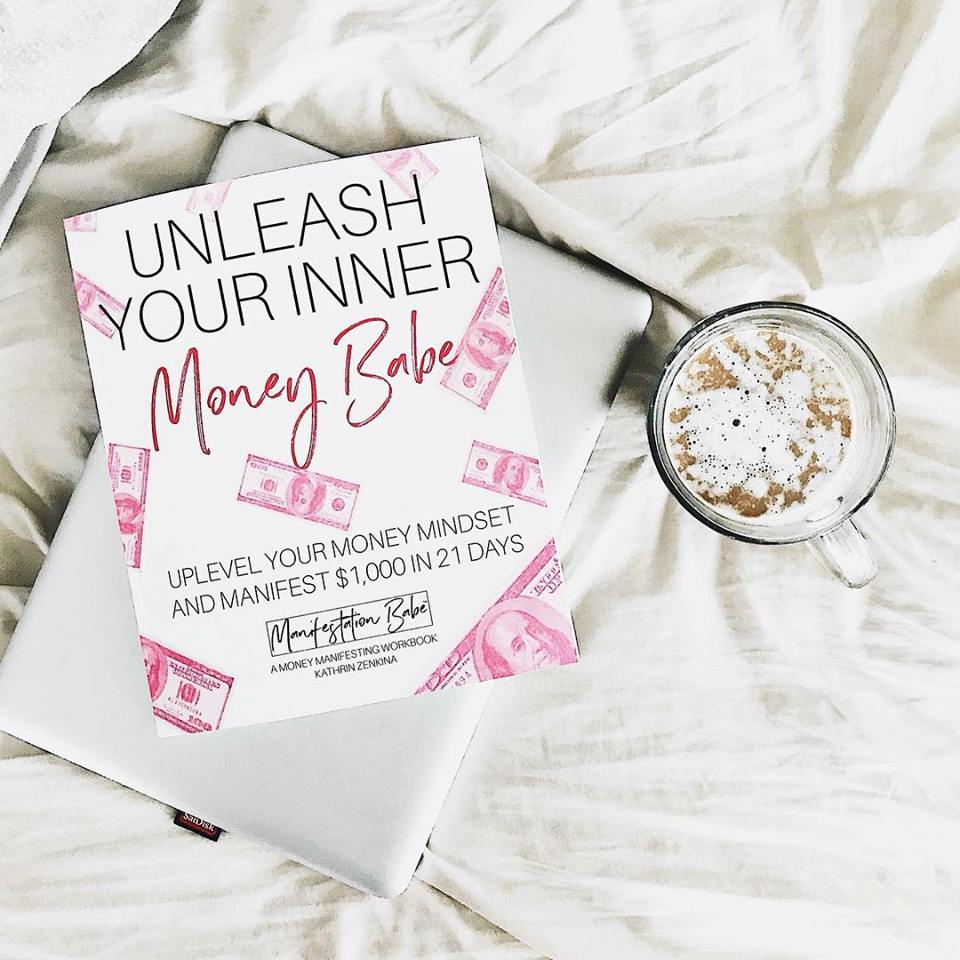 Day 4 and 5 – I'm combining two days and I'm even behind a couple of days because of some crazy that occurred over the weekend. Needless to say, The Universe threw me for a loop, but I'll share more about that below.
Grab the book and follow along with me, it's called Unleash Your Inner Money Babe: Uplevel Your Money Mindset and Manifest $1,000 in 21 Days
Day Four Discoveries
Day four is all about one of the most critical elements in the Law of Attraction – gratitude. Kathrin was brilliant in her explanation of why we must show that we're thankful for our current gifts. She compared it with the analogy of receiving a present that you didn't show gratitude for, and made the point that when a gift giver notices this, they are less likely to want to send you more gifts. Made perfect sense to me and I LOVED it!
So…today's challenge was to write a list of 25 things we're thankful for, and some interesting things transpired as I worked on my list…
I decided to take myself to the mall. Something I hadn't done in months. I was going to shop, sip on Starbucks and then finish with a lovely meal – one of my faves. I did all of that, and while I ate my meal, I smiled as I began writing my list in my notebook I had brought along with me.
I was thinking about how much I loved my husband while I was writing my list, and decided I would get him a meal too, and bring it home to him. That's when something I could NOT have expected occurred.
The Windshield Incident
I refuse to call this an accident anymore, and am only referring to it as an incident because of the ahas that transpired after the fact… Here's what happened…
I was driving home, and had just enjoyed a lovely time at International Plaza. While driving, a 4 inch metal bar flew through my windshield at 70 miles per hour in the Veterans Expressway. Scary moment let me tell you. Glass flew all over me. Sounded like a gunshot. Terrifying experience I never want to repeat. Now, this next part may surprise you – I'm thankful tonight for the incident I encountered today.
Wait, what?
I know….but let me explain.
The funny thing is that as I'm sitting here reflecting on it, I was trying to figure out why something so bad could happen in the midst of me trying to work on my Law of Attraction mojo and manifesting amazing things into my life. In researching how I was feeling, I stumbled upon this blog post:
I was intrigued because the article actually mentioned car accidents as something that could occur as one is working on becoming a master manifester.
"Or right when it seemed like you finally got a hand on this Law of Attraction thing and things were finally starting to look up for you, your washing machine stopped working…and your refrigerator…and your stove…
"Did you manifest these bad things?
"Of course not! You didn't manifest something bad; you manifested on an opportunity to expand forward into the life you truly desire to live."
Later in the post the author suggests looking for the positive to see the gift in the incident that may have at first blush seemed negative. Here's what I realized was the gift in my windshield incident:
I realized that in any crisis my husband will always be my rock. He calmed me down really fast, and showed me just how lucky I am to have him in my life to be there for me.

I was given a glimpse into how many people care for me. I was kind of bummed out before heading to the mall that I was going alone, but dozens of people sent me well wishes upon learning of the incident.

I had started doubting whether or not someone in my life cared as much as I needed them to about my well-being. But, the moment this person learned of the incident they were ready to drop everything to come to my aid.

I was shown I'm a VERY lucky woman to have not been hurt in what could have been soooooooo much worse.

I was shown just how much I want a new car and I know the universe now has confirmation of that deep desire.
So yes. I'm thankful for today and the incident for the lessons it taught me 😊
My gratitude list
Alright, after allowing myself to recoup post incident, I decided to give myself some grace, skip Sunday, and then finish my list before moving on to day 5 today – Monday 1/29/18.
"Gratitude is the holy grail of the high vibration energy that you can put out into the Universe" – Kathrin Zenkina
I woke up today! Not everyone did, but today I was given another day of life. Another chance for my dreams to come true. Another day to make smarter choices! Thank you!!!
I have a husband who loves me. That in and of itself means someone loves and cares for me, and is always on my side no matter what.
My dogs- they fill me with such an immense amount of joy!!!
The meal I'm eating right now. I'm thankful I had the money to buy it. I'm grateful it tastes good, and that someone else prepared it for me.
My eyesight. My lasik eye surgery is still going strong and allows me to see without glasses or contacts. LOVE!
My ability to walk.
I'm thankful for the ability to write this gratitude list.
I can hear the conversations around me, and the music that's playing.
I'm grateful for my phone, and my computer, and of course – the internet which affords me so many wonderful things.
I'm glad I have clean clothes to wear, lots of choices for outfits and a way to wash and dry my clothes at home.
I'm so thankful to have clean air to breathe.
I'm thankful for my jewelry – especially the sentimental pieces.
I'm so thankful for indoor plumbing. I'm remembering several moments when I was in Thailand and had to pay to pee and wash my hands. Oy! Crazy experience!
I'm thankful for free drink refills and kids meals. After this is when I decided to go home and bring my husband a meal…then, the incident happened and I didn't work on this list again until Monday…
Monday morning – I'm thankful my husband is waiting on me as I rest
I'm grateful for free will – I know this one might sound strange, but I know in some countries the idea of not doing what you want to do is normal. That would be a prison for me, and I'm grateful for the freedom to make my own choices
Amazon and Netflix – how awesome is it that we can be entertained so easily?!?
I'm thankful to have a job that requires no pants, and no commute!
So glad I'm creative!!!
Excited to be going to Italy in 2019!
I'm thankful for arts and crafts supplies.
Incredibly grateful for doctors and therapists.
Grateful for the Crisis Center of Tampa Bay for getting me through one of the toughest times in my life in 2017!
I'm grateful to live in the United States with central heating and air!
I'm also thankful for all of my friends and family.
Day Five Discoveries
Day five is all about the fact that money needs a purpose. Kathrin challenged us to really think about what we would do with the money if we could manifest an extra $1,000 this month. I journaled about this, and took it further intending my purpose for what I would do with the $100,000 that I will manifest by December 31, 2018.
I'm not 100% ready to make those intentions public, but writing it all out was certainly inspiring for me. It made me so excited thinking about how I will use the money that I WILL manifest! I am loving this work, and I'm getting pretty addicted to this stuff I once considered a little Woo Woo. I'm embracing my inner woo-woo wholeheartedly and LOVING it!
Until tomorrow…may your hearts be full and your inner most desires be met!